x
Thank you for submitting a review.
x
Thank you for submitting an inquiry. We will get back to you as soon as we can.
Availability
Room facilities:Shared Bathroom, Sheets, Towels, Wood Floor

Room facilities:Electric Outlets, En-Suite Bathroom, Fan, Sheets, Shower, Towels, Wood Floor

Room facilities:En-Suite Bathroom, Fan, Sheets, Shower, Towels
Las Perlas Island Resort
ISLAND INFORMATION
Only 35 miles, or 1.5 hours away from the busy streets of Panama City, the Las Perlas are an island chain of paradise islands, famous for clear water and white sand beaches. Your journey begins with a comfortable ride on a passenger ferry, leaving the Flamenco Marina on the Amador Causeway. The ferry ride is part of the adventure as you pass huge ships idly awaiting to cross the Panama Canal. Oftentimes, pods of dolphins are playfully swimming on the wake of the ferry. From July to November, humpback whales can be spotted along the way, which contributes to extra excitement of the passengers.
Once you arrive at the "pristine island of Punta Bajo Rico"and enter the Island Resort, start unwinding and enjoying. The Island resort is a luxurious ecotourism project with ocean-view cabins and glamping tents offering an authentic outdoor experience with all the resort amenities you deserve.
The island is uninhabited with no roads or other hotels. Just your exclusive Eco Beach Club, Luxury Camping, small Eco Cabins and restrooms. The rest of the island consists of dense, tropical vegetation, varied fauna, rich marine life and two spectacular white sand beaches, inviting guests to plunge into the azure ocean.
Located on the highest point of the island is an ocean-view restaurant, which prepares fresh fish, American-style beef burgers accompanied with a refreshing cold beer and jaw-dropping views of the island.
Choose from activities, such as SUP boarding, Kayaking, Fishing, Whale Watching (July-November), Snorkeling, Yoga Classes, Hiking on recently built nature trails, leading to hidden gems such as the Instagram Cave or Shell Beach.
WHAT'S INCLUDED
Island Taxes

Breakfast, Lunch, Dinner
WHAT'S NOT INCLUDED
Roundtrip Ferry Transportation (from Flamenco Marina)

Breakfast, Lunch, Dinner
CHILDREN
Cabins
Children ages 4 to 10 years old will receive a 30% discount. Children younger than 4 years old stay for free. Children older than 10 years old pay full price.
ITINERARY
(Approx. times)
Ferry departure at 7:30 AM from the Duty Free Shop at Flamenco Island Marina at the end of the Amador Causeway - please arrive by 6:45 AM to allow time for check-in and boarding.

Arrive at Las Perlas Island Resort by 8:00am
Check-in to your accommodation
Check-out (on departure day) by 10:00am
Return to Panama City at 3:30 PM - please arrive by 2:45 PM to

allow time for check-in and boarding.
WHAT TO BRING
Passport or Cedula (Panamanian residents)

Cash (there is no Credit Card or ATM on the island)

Comfortable and adequate clothing to protect yourself from the sun and thus avoid the use of sunscreen. Creams (even biodegradable ones) are polluting and for that reason we do not promote their use

Towels

Sunglasses

Insect Repellent 

Hats

Camera

Cooler with Snacks
PLEASE NOTE
All Prices quoted Per Person Per Night

Prices do not include Transportation to Flamenco Marina
CANCELATION POLICY
Please read our Accommodation Cancelation Policy before booking.
×
ACCOMMODATION CANCELATION POLICY
Tao Travel 365 strives to deliver the best possible customer experience. If at any point you have a question or concern about our service, please call us by phone at +1 (805) 826-3657, by WhatsApp at +507-6172-8682 or email us at sales@taotravel365.tours.
I. GENERAL ACCOMMODATION POLICIES
Due to the nature of our business, the limited supply of cabins in San Blas and the high reservation demand a 100% refund less credit card processing fees will only be granted if booked via our website www.taotravel365.tours AND if canceled more than 30 days before the check-in date. A partial refund of 50 percent less credit card processing fees will be granted if Tao Travel 365 receives notice at least 20 days in advance of your check-in date. For cancellations received less than 20 days before your check-in date, no refund will be granted. All sales are final.
For all bookings made via outside portals such as, but not limited to Viator, Booking.com, Expedia, Airbnb, Hotels.com, please refer to the respective cancelation policy of the portal that you booked with.
If you are unable to realize the reservation, contact us as soon as possible and we will try to arrange and reschedule the same or different accommodation for you.
If you are not at the designated meeting point by the time of your scheduled reservation or pick up, Tao Travel 365 reserves the right not to provide a refund. However, we will always try our best to locate you at the meeting point and call your WhatsApp number, if one was provided. After all, we want you to visit San Blas and to have fun. That is our goal!
II. CANCELED OR POSTPONED RESERVATIONS
Occasionally, reservations are canceled or postponed due to weather or ocean conditions, mechanical failure, or other unforeseen events. Should this occur, we will attempt to contact you about the cancellations and to inform you of refund or exchange procedures for that accommodation. For exact instructions on any canceled or postponed accommodation, please contact us. In the case of a cancellation of your accommodation by Tao Travel 365, we will refund your accommodation or schedule you for another accommodation, as detailed below.
III. REFUNDS
All sales are final. No refunds are available unless an accommodation is canceled within the cancelation guidelines (see section I.), or canceled or postponed by Tao Travel 365 (see section II.). We will offer refunds of the full face value of the reservation(s) that are canceled or postponed (or, if a discounted reservation, then instead the discounted reservation price paid). No refunds are offered on any service, payment processing or convenience fees.
To receive a refund for a canceled or postponed accommodation, contact us at sales@taotravel365.tours within 3 days of the accommodation cancellation and write "refund" in the subject line. Instructions will be provided in order to obtain your refund.
IV. ACCOMMODATION EXCHANGES
No exchanges are offered by Tao Travel 365. While in some extreme cases we may offer this service (such as a cancellation by Tao Travel 365), it is not guaranteed and often impossible. Contact us directly by email at sales@taotravel365.tours to inquire about exchanges. Fees may apply.
Facilities
Balcony with views
Daily Housekeeping
Electric Outlets
En-Suite Bathroom
Fan
Partial Oceanview
Sheets
Shower
Towels
Wood Floor
Pearl Islands "Las Perlas"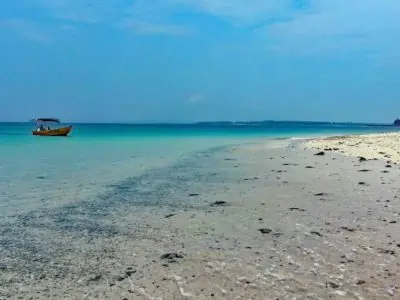 There's a coconut-strewn beach with your name on it in the Pearl Islands (Archipiélago de las Perlas), a cluster of some 200 islands about 80km (50 miles) southeast of Panama City. The islands were named for the bounty of pearls found there – many are unnamed, and most are uninhabited, so this is the real desert island deal.
Isla del Rey is the largest island, but smaller Isla Contadora is the most developed and popular island for visitors. Contadora is Spanish for book-keeper and this is where the Conquistadors reportedly took inventory of their looted treasures before carting it all off to Spain.
These elegant islands enjoyed a glittering past as a home to the rich and famous. During its heyday, the likes of Elizabeth Taylor, Christian Dior and John Wayne visited and partied here. It's not the worst place to "survive" even today, as the TV show Survivor proved when it was filmed on the islands in 2003.
The best things to do in the Pearl Islands
On Isla Contadora, there are over a dozen beaches and plenty of high-end places to eat, play and stay – but there are no cars, so visitors and locals whiz around in golf carts.
Activities abound. You can learn to sail, peek at the marine life below the surface on snorkeling or dive trips, or spot whales offshore during mating season from July to October. As well as the beaches on lovely Isla Contradora, Isla Viveros and Isla Saboga are popular for catching a few golden rays. The latter is also a prime location for jungle hikes, windsurfing and traipsing along near-deserted beach
---
Read more
