x
Thank you for submitting a review.
x
Thank you for submitting an inquiry. We will get back to you as soon as we can.
Availability
Room facilities:Balcony with views, En-Suite Bathroom, Fan, Hammock, Mosquito Net, Shampoo, Sheets, Shower, Towels

Room facilities:Fan, Shampoo, Sheets, Shower, Towels

Room facilities:A/C, Balcony with views, Daily Housekeeping, En-Suite Bathroom, Hammock, Sheets, Towels
Isla Grande Hotel
ISLAND INFORMATION
As you step off the boat you will be welcomed by palm trees and white-sand beaches. A popular getaway for folk escaping the urban grind of Panama City, Isla Grande is an ideal setting for snorkeling, scuba diving or simply soaking up the island's relaxed vibe. There are no roads here, just a small footpath along the island's southern coast, backed by pastel-colored cottages. Many of the people living here are of African descent and are eking out a living from fishing and growing coconuts – you'll get a taste of both when you sample the local cuisine.
We recommend this island to romantic couples and families who want to enjoy unspoiled nature and a relaxed atmosphere.
WHAT'S INCLUDED
Round Trip boat transportation from the Port to the Island

Pool Access & Ocean front deck

Breakfast a la carte

Welcome drink

Check-in 3:00pm & Check-out 11:00am
WHAT'S NOT INCLUDED
Food & drinks (alcoholic and non-alcoholic)

Menu a la carte

If using your own transportation, parking at the Port approx. $6
ADDITIONAL CHARGES AT HOTEL:
Bring your own alcohol $15

Bring you own cooler with food and snacks $35-$75 depending on size
CHILDREN
Children ages 0 - 7 stay for free

Children ages 8 - 17 pay $39 per night
WHAT TO BRING
Passport or Cedula

Cash (there is no Credit Card or ATM on Isla Grande)

Comfortable and adequate clothing to protect yourself from the sun and thus avoid the use of sunscreen. Creams (even biodegradable ones) are polluting and for that reason we do not promote their use

Towels

Sunglasses

Insect Repellent 

Hats

Camera

Cooler with Snacks
PLEASE NOTE
All Prices quoted Per Person Per Night

Prices do not include Transportation

Minimum 2 Guests per booking

Roundtrip transportation from Panama City ($100 per guest) or Playa Bonita ($120 per guest)
PAYMENT & CANCELATION POLICY
Please read our Terms & Conditions before booking our tours.

 
Facilities
A/C
Balcony with views
Daily Housekeeping
Electric Outlets
En-Suite Bathroom
Fan
Free Wifi
Hammock
In-room dining
Mosquito Net
Oceanfront
Shampoo
Sheets
Shower
Towels
Colón Province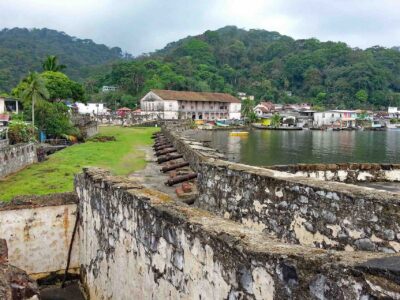 Colón Province has a long and rich history of pirates, plunder and pearls. Even though it is the most populated province in the country, Panamá can be as big or as small as you want it to be. Serene rainforests and sizzling beaches are all yours to explore, and the comforts of the capital are never more than one hour away.
The main attraction still remains the world's most daring engineering achievement. Explore the Panama Canal and its expansion by visiting its locks, boating through its watery recesses or hiking along its jungle-clad shores. Here you will also find one of the most accessible and best-studied tropical rainforests on the planet.
Day trips from Panama City abound, ranging from beaches and surf breaks to ferry trips to the nearby island village of Taboga. Further flung is the Archipiélago de las Perlas, which attracts everyone from the moneyed elite to, occasionally, Survivor contestants.
---
Read more
