x
Thank you for submitting a review.
x
Thank you for submitting an inquiry. We will get back to you as soon as we can.
Darien Jungle in 3 days – Visit the mysterious Darien Gap
It is a forgotten place, a savage place that shows us the best and worst in us all.  The dense jungle topography of the Darien Gap has long been the disastrous end of many adventurers, swallowing lost souls in its ancient embrace. The aura of the jungle, of a million wild souls, is as tangible as water when one bathes. It is another sense, one that comes to the heart rather than the eyes, as soaked in richness as they are.
​Both ambitious human aspirations and ultimate despair cross paths in this mystical place, drawing all manner of people into its grasp.  Trafficked by merciless smugglers and hopeful migrants alike, the Darien Gap has seen and claimed countless of travelers, while only a few lucky ones were given the privilege to escape its dark fangs. 
If you are still reading this, you are most likely an adventurer who will most likely enjoy a trip into raw nature, meeting ancient cultures and participating in their rituals and customs. We are offering expeditions into the Darien jungle for various different degrees of adventure levels. Your personal guide will customize your experience depending on your ambitions and physical constituency.
TOUR OVERVIEW
Day 1: Visit Palma Darien and boat ride on the Sambu river to La Chunga villages
We recommend that you arrive at La Palma Darien the day before and stay the night at the La Tuira hotel (~$25 per person). The next morning, at 6:30am, you will be picked up from your hotel by one of our staff. After an information session and a tour of the community you will embark on a fast two-hour boat ride through the beautiful bay of San Miguel before reaching the mouth of the Sambu river. As you progress deeper into the flooded rainforest, the landscape will change as your boat weaves through thick mangrove trees. After two hours we arrive at the Embera village of La Chunga. On the way you will see traditional Embera huts built on stilts and probably some specimen of the local fauna such egrets, herons and, with a bit of luck, a caiman lying on the muddy riversides.
 **Overnight at the Eco-Lodge La Chunga**
Day 2: Hike in primary Rainforest of the Darien Gap
In the morning you will hike on one of the Corredor Biologico Bagre rainforest trails. This is an impressive journey under towering trees through a remarkable ecosystem with an incredible biodiversity: rare animal species such as the black-headed spider monkey (ateles fusciceps) can be spotted with a bit of luck. The beautifully colored poison darts frogs are often seen on the forest litter. Passing under the virescent canopy is like walking over hundreds of years of fallen leaves, billions of insects and more roots than God himself could map on a sunny afternoon. This place is so alive it makes the city seem barren, even with it's millions of people. Here life is at every level, in every direction, with more species that have ever been, and likely ever will be, classified.
After dinner back in La Chunga, if weather allows, we will venture out again, into the dark, trying
to spot some of the nocturnal species and listening to the jungle come alive.
**Overnight- Eco-Lodge La Chunga**
Day 3: Cultural Interaction with the Emberas
You will discover more aspects of the rich Embera culture. Your hosts will tell you about their history, their political organization and take you to their fields surrounding the village. You will enjoy their traditional music and dances. They will explain you how they make their beautiful and unique handicrafts: delicately weaved baskets and masks made with two kinds of palm fibers for the women, spectacular wooden sculptures made of hard cocobolo wood and wonderful small art pieces made of vegetable ivory (tagua) for the men.
If the weather allows it you will make a short night walk after dinner.
**Overnight- Eco-Lodge La Chunga**
Day 4: Return from La Chunga Village to Panama City via Puerto Kimba
After saying goodbye to your Embera hosts, you will leave early in the morning, following the many river turns in the middle of the thick mangrove. You will come back to Puerto Kimba where your vehicle or public transportation will be waiting for you for the transfer back to your hotel in Panama City.
Note: Itineraries are not bound to specific hours of the day depending mainly on the tides
of the Pacific Coast communities in Darien.
LODGING & MEALS
The sound of nature is a symphony unlike another. Its music will lull you to sleep as you lie comfortably in your bed, in the middle of the jungle.
The traditional, palafita-style cabins are built on stilts or that rise approximately three meters above the ground. These typical structures are known as "Bujia" (literally, "large house") and are generally constructed along the rivers of the region.
Breakfast: cooked local vegetables (yuca, name, otoe) accompanied by boiled eggs and fresh shellfish prepared in tomato sauce and natural herbs of choice. Breakfast is accompanied by a cup of coffee or natural tea (sweetened teas are available upon request). Bread and pancakes are optional.

Lunch: Seafood (including fish of the day, fresh shrimp, and lobsters when in season) or meat (chicken, beef, or pork), accompanied by boiled or mashed potatoes. Traditional Panamanian meals include a plate of rice and beans or other legumes (porotos, lentils) and fried plantains (patacones). Lunch is accompanied by fresh orange juice, lemonade, or coconut water. A sampling of delicious tropical fruits may also be available.

Dinner: served at sunset, dinner includes a light plate of vegetables with cooked meat and fresh orange juice or lemonade. This will be followed by chicheme, a delicious treat of cooked corn, with or without coconut milk, natural fruits, and drinks.

Optional: vegetarian meals are available upon advanced notice. Options include native vegetables and legume accompaniments such as beans, poroto, lentils, and guandu. These meals come with an accompaniment of fresh coconut juice, orange juice, or lemonade.
The Eco-Lodge La Chunga features:
2 private Bujias with double beds

1 shared Bujia that has 2 rooms with 3/4 beds and 3 rooms with double beds

Potable water in all Bujias

Shared bathrooms and showers

Gas lantern use at night (no electricity available)

Small restaurant with refreshments

First-aid equipment
Shared Cabin:
Rooms with double bed:

Rooms with single bed:
Private Buja with double bed: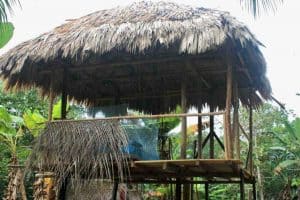 Bathroom with shower:
WHAT'S INCLUDED
Accommodations for 3 days and 3 nights in Eco-lodge La Chunga in the traditional, indigenous community, or camping tents during the hikes

All meals (breakfast, lunch, dinner)

Entrance fee to Corredor Biologico Bagre (National Park Darien)

Observation of flora and fauna

Guides with experience who speak English and Spanish

Hikes to the jungle

Traditional Emberá hut with full board

Fee for the indigenous community

Motor boats and canoe transports

Luggage attendant support
WHAT'S NOT INCLUDED
Transportation from Panama City to Darien and back (please see "Getting Here")

Puerto Kimba Boat taxi to La Chunga ($35 each way)

Alcoholic Beverages and soft drinks
WHAT TO BRING
Passport will be required when checking in with the immigration booths at Darien and Puerto Quimba

Guests may carry flashlights for personal use

Strong footwear (hiking boots and/or sandals)

Backpack

Mineral bottle water and soft drinks

Waterproof coat or jacket

Cap, hat, or bandana

Hiking and/or cargo pants (no jeans)

Mosquito/Bug Repellent

Sheets or sleeping bag (the jungle can get cold)

Personal utensils

Camera and/or video camera

Biodegradable soap

Open mind and strong will
Note: You will be able to rent advisable equipment in La Chunga such as boots, waterproof coats, jacket and camping gear
IMPORTANT ADVICE
Visitors to the Darien Jungle are advised to be vaccinated against Malaria

Everyone suffering from heart disease has to show a medical examination clearing you to take part in strenuous activities. This tour is recommended for people in good health and in good condition.

All accommodations are located in indigenous communities. You will sleep in a indigenous cabins and/or tents. A sleeping bag and a sleeping pad will be offered to you.

Toilet facilities are really basic pit toilets

The accommodation in La Chunga village is rustic, but has comfortable beds with fan and mosquito nets. The bathroom has running water

There is no electricity available

You will spend your last night in La Chunga

Travel to the Darien Jungle is enjoyable all year long, however, the best time to visit is the dry season, which lasts from January to July

Itinerary may vary depending on weather conditions
GETTING HERE
There are two ways to get to La Palma, Darien. Please let us know at least 15 days in advance of your travel plans so that we can make all arrangements.
Option 1: Private Plane from Albrook Airport
We highly recommend this option for groups of 15 to 20 guests. You can charter a private airplane taking you directly to Sambu airport, which is located a short 10 minute boat ride away from La Chunga
Option 2: Public transportation from Albrook Bus Terminal
Take a bus from Albrook Bus Terminal to Darien-Meteti (5 hours and approx. $9)

Connect at Meteti Bus Terminal onto a smaller bus to Puerto Quimba (30 min and $2)

In Puerto Quimba take a Sambu Water Taxi to La Palma where you will spend the night at Hotel Tuira (30 min and $5 for water taxi and approx $20 for hotel)
Once arrived in La Palma, please spend the night at the La Tuira hotel (~$20 per guest). The next morning, at 6:00am, one of our employees will meet you at the hotel to take you on the boat ride to La Chunga.
*Please note that the price paid the the tour does not include Transportation to and from La Chunga. Upon start of your tour the next morning, you will embark on a two hour speed boat ride to La Chunga which costs $22 per Guest each way.
** Traveling to Darien requires that you to check-in with the immigration booths at Darien and Puerto Quimba. They will only ask you for your Passport Information and how long you will be staying. If there are any problems, just explain that you are tourists.
CANCELATION POLICY
Please read our Tour Cancelation Policy before booking.
×
TOUR CANCELATION POLICY
Tao Travel 365 strives to deliver the best possible customer experience. If at any point you have a question or concern about our service, please call us by phone at +1 (805) 826-3657 or email us at sales@taotravel365.tours.
The following cancellation policy applies only for Day Tours (DOES NOT apply for Multi-Day Tours).
TOUR POLICIES
Due to the nature of our business, the logistics involved with organizing tours and the high reservation demand following refund policies apply:
100% refund less credit card processing fees will only be granted if booked via our website www.taotravel365.tours AND if canceled more than 7 days before the start of the tour.

50% refund less credit card processing fees will be granted for cancellations received less than 7 days AND more than 48 hours before the tour start date.

No refund will be granted for cancelations received less than 48 hours before the tour start date.
All sales are final.
For all bookings made via outside portals such as, but not limited to Viator, Expedia, Airbnb, please refer and adhere to the respective cancellation policy of the portal that you booked with.
If you are unable to realize the reservation, contact us as soon as possible and we will try to arrange and reschedule the same or different tour for you.
If you are not at the designated meeting point by the time of your scheduled reservation or pick up, Tao Travel 365 reserves the right not to provide a refund. However, we will always try our best to locate you at the meeting point and call your WhatsApp number, if one was provided. After all, we want you to participate in our tour and have fun. That is our goal!
CANCELED OR POSTPONED TOURS
Occasionally, tours are canceled or postponed due to weather or ocean conditions, mechanical failure, or other unforeseen events. Should this occur, we will attempt to contact you about the cancellations and to inform you of refund or exchange procedures for that tour. For exact instructions on any canceled or postponed tour, please contact us. In the case of a cancellation of your tour by Tao Travel 365, we will refund your tour or schedule you for another tour, as detailed below.
REFUNDS
All sales are final. No refunds are available unless a tour is canceled or postponed, or we are given 48 hours advance noticed whereby a 50 percent refund will be awarded. We will offer refunds of the full face value of the tour(s) that are canceled or postponed (or, if a discounted tour, then instead the discounted tour price paid). No refunds are offered on any service, payment processing or convenience fees.

To receive a refund for a canceled or postponed tour, contact us at sales@taotravel365.tours within 3 days of the tour cancellation and write "refund" in the subject line. Instructions will be provided in order to obtain your refund.
TOUR EXCHANGES
No tour exchanges are offered by Tao Travel 365. While in some extreme cases we may offer this service (such as a cancellation by Tao Travel 365), it is not guaranteed and often impossible. Contact us directly by phone at +1 (805) 826-3657 or by email at sales@taotravel365.tours to inquire about tour exchanges. Fees may apply.

Contact Us

Email Us

sales@taotravel365.tours


Call Us

+507-6109-3118
+1 (805) 826-3657
+1 (805) TAO-365 7

Address

Ave 5B Sur
Panama City, Panama